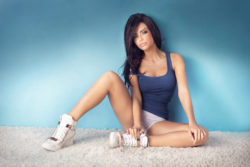 Anyone not living under a rock will know the Olympics kicked off last week in Rio, but there's another way for the less athletic to get involved, rather than staring at the skimpy swimsuits. Here's how you can join in the fun:
The online pharmacy Dr Felix has put together a very useful infographic which places events next to sex positions which can burn the same calories and which part of the body it works out.
Check it out:

Only 10 minutes of standing sex is the equivalent of 1 km of cycling, and works the glutes.
Performing an intimate sex act on your partner is also compared with swimming 100 metres, and works the abs, arms, chest and legs.
If you're feeling extra fit, skip the trip to the gym and enjoy 50 minutes of doggy style, you'll need good stamina and endurance though, as coming first won't win you any medals, it's certainly the taking part that counts!
Or if you're lacking a partner to play, a 20 minute hand job will work your arms and abs similar to the javelin, so have at it! How many times a day can you come first for Great Britain? Need inspiration? This horny girl loves to chat.
Share your success in the comments below, I look forward to handing out some gold medals in the Fanny sex Olympics!