Irn-Bru Loves Fanny!!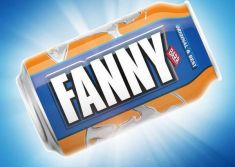 http://www.youtube.com/watch?v=WIxCFo5t3AI
"Fanny eh? I like it! It's unusual, unique." Haha, one of my Irn-Bru loving Glasgae Babes saw this, thought…Fanny will love this advert! and sent it my way.   I love it! It seems the people at work at  Irn-Bru love Fanny too!
I couldn't not give this a little mention, getting Fanny behind an ad campaign is genius and what a fabulous name it is too!
Hmmmm Irn-Bru & Fanny…sounds like quite a tantalising mixer too huh?
In other news!  Check out my sexy, ball busting Twitter Babe of the Day @sicklittlebitch xx
I love today's #FannysFilth … Porno Elbow! http://www.urbandictionary.com/define.php?term=Porno%20elbow&defid=5071545   Come on be honest, who's had it?? I'm not convinced this only applies to men either ya know…