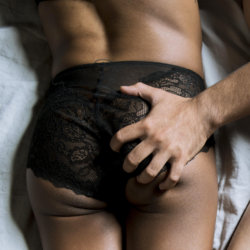 Question:

Dear Charlotte,
My girlfriend says she wants to try anal but every time I try she says it's too painful and I don't know how to make it enjoyable for her. We watch pornography together and she gets really turned on by it but I don't know how to reenact what we watch, any advice?
Cheers Ian
Answer:
Hi Ian,
Thank you for your question, I was wondering how long it would be before someone asks me this as this is exactly what happened to me.
Firstly Ian you need to remember that the performers in the films you watch are trained professionals and have things entering their bottoms a lot more frequent than most. So, I can't plan the whole scenario for you but I can give you some tips and advice in how to help her enjoy anal the best way I know how.
#1: RELAX
Is she in the mood? If she is in the mood for anal she should be nice and relaxed, this is super important. The minute she tenses down below the more painful it will be. So RELAX.
#2: WARM UP
Have you played with her to warm her up, that's vaginal and anal? If you perform oral sex on her have you tried it on her anus as well? The feeling can be very sexy and will help achieve NO 1 at the same time.
#3: LUBE
What lube are you using? Oil, water based or silicone? All of these points can change the way it feels down below. Oil will erode condoms, water based lubes will dry out, the best choice is silicone anal lube, but you will need to reapply. You need to get the cock oiled, the anus, inside and out, lubed otherwise when the skin stretches there will be parts that are still dry and that's when it becomes painful.
#4: FINGERS
You will need to use a little finger action to stretch the anus open ready for your cock. Don't go ramming it in hard and fast as slow and low is the way to go.
#5: POSITION
I have found doing this in missionary position is the best way to ease into it without any surprises as you can both see each other and go slow and steady together. You won't be able to go too deep inside her and you can both still be attentive towards each other, with kisses and cuddles, but make sure you listen to her if she is uncomfortable, slowly move into a position that feels right.
#6: PACE
When you put your cock inside her arse, you need to go slow, don't start expecting porn star style and bang bang! This will not work. Remember slow and steady, and listen to her, if she likes it, follow her lead, she's the one in charge.
Have fun.
Love Charlotte
If you want more tips on how to enjoy painless anal sex, or if you want to share your experiences then call me directly on: