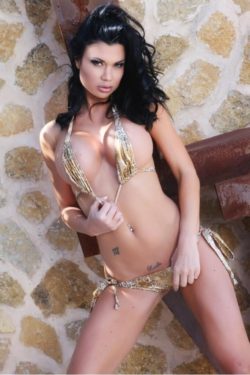 Jasmine Jae at Home…
Do you ever forget to put your knickers on when you go out?
No I don't forget, I leave them off on purpose.
What's the perfect Sunday morning for you?
I start my Sundays the same way as every day – with an orgasm.
If people haven't seen you in a movie yet can you suggest your favourite or just one you think they would enjoy?
Wow there are so many! I've had specific comments about my Fake Taxi scenes (which had had over 5 millions views), the Harmony film 'dark edge', my Brazzers scene 'Benny Hilled' & Killergram scene 'Cum into my office'.
Do you have a bear or a favourite inanimate object that you take to bed with you? Describe?
My magic wand. Nuff said!
What's been the highlight of your career so far?
Being nominated twice for best female performer given I have only been in the industry for one year and becoming a Brazzers Allstar.
What's the one thing you're guaranteed to order from the menu?
Wine!
Jasmine Jae in Bed…
What do you like more, giving or receiving oral sex?
Definitely giving. Sucking cock is one of my favourite things in the world!
Do you masturbate? When? Where? How often?
Yes! Anytime, anywhere and everyday!
Some women enjoy foreplay more than sex, do you enjoy foreplay?
I love getting fucked too much to spend too much time on foreplay. After 5 minutes I'm like, ok fuck me now!
Does size matter?
Yes it does! Sorry guys!
Jasmine Jae in Fantasy Land…
Sex or shopping? Which would you choose? Half an hour of sex with Johnny Depp or half an hour of shopping with Roman Abramovich's credit card?
I don't know, is Johnny Depp good in bed?!
Do you have any unfulfilled sexual fantasies?
A bukkake gang bang. Being drenched in multiple loads of cum…mmmmm……
Do you squirt?
Yes I am a natural squirter. Just check out my Brazzers scene 'I want to make you squirt'
What's a better 3sum for you? You and two guys or you with one guy and one girl?
Why just three? I like even number so let's say 2 girls and 2 guys!
Spit or swallow?
neither. I like to roll it around my mouth and ideally share it with another hot girl!
Buy a ticket here for the awards event of the year.