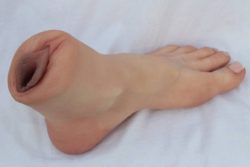 Is it a vagina? Is it an ankle? No it's a…vajankle. My innocent little brain may never be the same after processing this image, but I do it for you guys. If you love a good foot job and fucking arches just isn't enough for you, well now you can fuck an actual (silicone) foot. Fun times.
Brought to you by Sin Boutique, you can choose your preferred skin tone as well as what colour toe nails you'd like your new toy to have.
All for just £118!
These quirky feet have a vagina built right in at the ankle! The vajankle is in the left foot only. You can order the vajankle independently, or as a pair with the standard right foot.