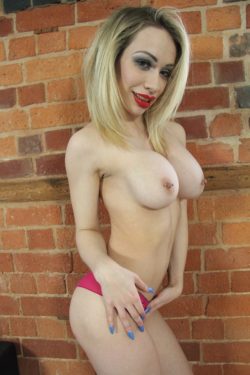 It's easy to get laid if you're a pornstar? Think again…
Television X is lifting the lid on the sex lives of single pornstars in the new series The Unshaggables.
Porn veteran Angel Long has been talking with her porno pals discovering their kinky quirks and taboo tastes and pairing them with guys who share their particular persuasion.
"I felt I had to help after realising how common it is for porn stars to struggle for an offset shag" – Angel explains.
Television X star Chessie Kay, appearing in episode 2, has an insatiable urge to bonk a guy in front of her collection of miniature figures.
"I can only f**k a man if he will have me in front of my tiny plastic men" – Admits Chessie
This is a fetish called 'reverse giantesses', women have sex in front of tiny plastic men and fantasize about them all coming to life for a frenzied group f**k.

"Every time I brought a guy back from a club he would run a mile as soon as I reached for my pot of plastic men. Thank god for Angel stepping in and finding me a bloke that I can actually have fun with!"
– Beams Chessie
Another happy customer of Angel's endeavours is fellow porn royalty Michelle Thorne. She is happily married but her private sex life has hit the rocks due to her husband refusing to entertain her ultimate fantasy.
Michelle sighs –
"I've been married for a couple of years, but I'm so obsessed with the idea of wearing a strap-on and having some bum fun with my hubby that I refuse to let him shag me in till I get this out of my system. But every time I put it on he won't let me near him!"
Thankfully Angel found them a guy who's willing to be shafted by Michelle and now the couple are enjoying a more varied sex life.
Other porn stars appearing in the series include mega MILF Faye Rampton, who will only sleep with young inexperienced men, super shy Lucia Love who doesn't have the confidence to pick up a fella when there isn't a script to help her, and slutty Hannah Shaw who scares most men away due to her long list of previous partners.
The Unshaggables premieres at 10pm on Saturday 18th July on Television X – Sky 903, Virgin 970, Freeview 171 and online at www.televisionx.com.