Miley Cyrus went above and beyond at her latest concert in Denmark. Walking out into the crazed fans, she allowed them to cop-a-feel wherever they wanted! Including some well placed gropes around her pussy and arse! She seemed to quite enjoy it too! Check out the video below for an up close peek. Warning, may cause a hard cock or wet panties!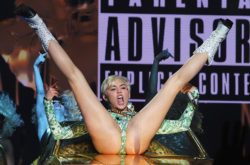 Miley is well known for her outrageous behaviour, and this isn't the first time she has shocked and awed fans with her 'interactive performance'. During her 2014 'Bangerz' tour she rubbed her crotch and arse in a very happy fans face.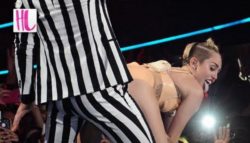 At the VMA's she caused quite a stir with Robin Thicke as they appeared to be dry humping live on stage,or 'twerking' as they called it. Her  skimpy nearly nude outfit didn't help matters as she appeared almost naked from a distance.
And who could forget her infamous wrecking ball music video, which is one big sexy mess of flesh and tongue.
Personally I love a bit of Miley Cyrus and her outrageously sexual antics, but would love to hear your views.