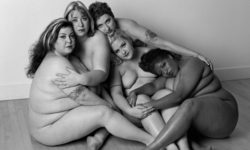 As fans from around the world continue to mourn the passing of their favorite Vulcan, here's something you may not have known about Leonard Nimoy- he had a great passion for photography and spent 8 years taking photographs of plus-sized women.
Nimoy published a collection titled The Full Body Project in 2007, which featured plus size, naked women. He found new models in the plus-size, cheekily named, burlesque group The Fat-Bottom Revue.
I asked them to be proud, which was a condition they took to easily, quite naturally. Having completed the compositions that were initially planned, I then asked them to play some music that they had brought with them, and they quickly responded to the rhythms, dancing in a free-form circular movement in the space … In these pictures, these women are proudly wearing their own skin. They respect themselves and I hope that my images convey that to others.
Fair play Mr.Nimoy, big girls ARE beautiful. What do YOU think? Comments below.