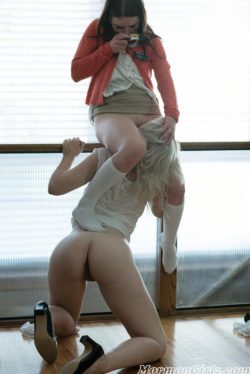 "Tube sites are monopolizing traffic, so now it's not even about the niche, it's about the microniche."
Says Stephen Yagielowicz of adult industry business site XBIZ. And you can't get much more microniche than Mormon themed porn!
For those of you who are unfamiliar with Mormon practices, you might be forgiven for associating the religion with polygamy (multiple wives), but that particular practice was actually discontinued in the church back in 1890, 120 years ago! They do however have a pretty hot initiation ritual where a new member is welcomed in to the temple by being anointed wearing nothing but a sheet. This is followed up by being washed by an elder, including the genitals (kinky). But despite the odd hint of their erotic nature what is the appeal of mormon themed porn to non mormons and mormons alike?
I asked the owner of growing site,MormonGirlz.com what it was all about:
MormonGirlz.com is the only place where you can find high-quality videos of beautiful sister missionaries having sex — solo and with each other. If you have ever fantasized about innocent Mormon girls, wondered what they wear underneath their conservative outfits, or imagined how they deal with all that repressed sexual energy, you're in the right place. MormonGirlz takes you behind the scenes as sister missionaries explore your sexual fantasies with each other.
Keep up to date with MormonGirlz by following them on Twitter, @mormon_girlz