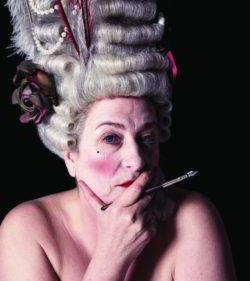 54-year-old Caroline Quentin, best known for her role in 'Men Behaving Badly' is preparing to bare her flesh in a racy new stage role as London prostitute Fanny Hill.
The play, titled The Life and Times of Fanny Hill, is based on the 1748 novel 'Memoirs of a Woman of Pleasure,
As you can see Caroline has gone under a dramatic make-over for the role which will see her ditch her brown hair for a skyscraper of a Georgian beehive stuffed with feathers.
Promotional shots for the new play at the Bristol Old Vic show her with bare shoulders, a stark white face and vibrant red lips and cheeks.
Go Fanny!