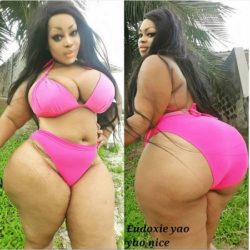 This week an African woman has become an internet sensation because of her massive arse! Of course I had to see what all the bum fuss was about, oh the terrible things I do for you! Hehe
Eudoxie has racked up over 100,000 followers on Instagram who aren't shy about sharing their love for her ample bum, including myself. (IG:fanny.hunter) Checking out her profile I can certainly see why! My eyes were popping from my skull after seeing that beauty of a bottom.
Her arse is so large, she has to use a selfie stick to capture it in all its glory, and glorious it certainly is. However, she is making the most of the attention and sharing twerking videos online that are unsurprisingly very popular. She's gained so much attention she will soon be appearing in advertising campaigns and appearing on daytime television. The male attention she is receiving is the most vast, with many wanting to grab a hold for a ride and one user sharing his wish to spunk all over those massive cheeks. Who wouldn't want to?
More of a boob man? Don't worry she's got you covered. Her boobs are also pretty damn massive too. Imagine getting your hands on those goodies!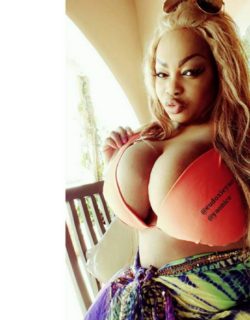 Eudoxie says she is representing the big girls of the world, and is a role model for real women worldwide.
Want to see her in action? Check out the video below, congrats if you make it to the end as it's a whole 44 minutes of just watching her arse, you dirty fuckers!
Unfortunately she is a bit of a spoilsport and rarely interacts with her male fans, but if you're a fan of big bottomed girls check out these BBW babes. All happy to chat with you and share pics of their curvaceous sexy bodies.