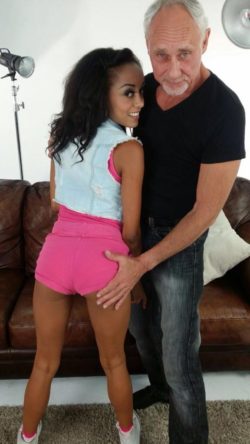 Ben Dover has been starring in adult films for nearly 40 years, now he's knocking 60 and has decided that it's time to give something back. So, to coincide with his return to Television X in 'Ben Dover – The Old Fucker', Ben has been offering sex advice to the over 60s across the UK.
Major dating websites report that the 50+ age group is the fastest-growing demographic on their sites. 80% of 50 – 90 year olds are sexually active and cases of STDs in people over 50 are on the rise. The time is perfect for Ben to offer a helping hand.
"Having been with thousands of women in my life, and still waking up with beautiful girls, I have a lot of knowledge to share. I've been helping everyone from couples in their 70s who need to spice things up to singles in their 60s who want to impress a new partner between the sheets" says Ben Dover.
Ben has been speaking with Britain's oldies across the country and sharing his wealth of knowledge on sexual positions. The do's and don'ts after a hip operation. How to get it up and keep it up. Satisfying a younger lover, tips on foreplay and discovering new and exciting sexual experiences even in your 80s.
"A lot of these guys have been having sex for as long as I have, so this isn't sexual education, it's sexual re-education" laughs Ben.
Ben is ­available to help and offer advice via the Television X Twitter account @TVXmole using the hashtag #AskBen.
The new series from Ben sees him in action with the UK's hottest adult models of the moment, showing the younger guys just how it's done. The series includes AVN award winner Samantha Bentley, star of Television X's The Real Fifty Shades Sienna Day, the beautiful Alyssa Divine and more.
Ben Dover – The Old Fucker premieres at 10pm on Saturday 21st March on Television X – Sky 903, Virgin 970, Freeview 171 and online at www.televisionx.com.