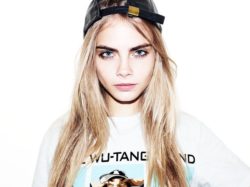 Cara Delevingne recently admitted she's been caught having sex on planes – but she's certainly not the first famous face to enjoy some mile high club action and certainly won't be the last.
The cheeky actress, who is dating 33-year-old singer St Vincent, spilled the beans about her personal life in a very revealing interview with LOVE Magazine with Suicide Squad co-star Margot Robbie.
Talking about her risky sexual antics, the 23-year-old said: "I've had sex in planes a lot. But I've always been caught. It's super-hard not to get caught." Although she didn't seem to bothered with other voyeur passengers.
"I had sex in the chair on the plane and there was a guy watching so we ended up telling the air stewardess what was happening. Like, 'This guy keeps staring at us. Can you tell him to stop?'
Image credit: Vogue.
Other celebs that have joined the mile high club include:
Kris Jenner- Like mother like daughter…
Kim Kardashian- Private planes only though because apparently she doesn't fly with the general public.
John Travolta- Taking full advantage of his pilot's license with his wife.
Liam Neesan- He said: "I joined the mile-high club many years ago. I remember it was on a Lufthansa flight."
.Miranda Kerr- The ex-missus of Orlando Bloom told GQ magazine: "The older I get, the more confident I am about asking for things I enjoy.". She however, did not speculate on which partner she got frisky in the sky with.
Reese Witherspoon and Jake Gyllenhaal- According to a witness on the same flight, it took only 11 minutes…
John Legend- Legend's moment of Glory came with his wife Chrissy Teigen and we certainly see why they couldn't keep it in their pants!
Barbra Streisand- The Way We Were singer Barbra. She hired a private jet to fly over Los Angeles so that she and her husband could become members.
Have you joined yet? Don't let the celebrities have all the fun!