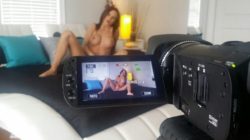 The Cammy Awards held a three-day event this week and on Tuesday crowned Ashley Sinclair as their "Crossover Performer of the Year."
Ashley was also one of the official awards presenters for the show and scheduled a Q&A session and a featured cam show.
In the past few months Ashley has stepped up her game in Porn Valley and turned in several amazing scenes.
"I take great pride in my cam shows, so I'm really proud to have won this award," Ashley said. "There was a lot of really solid competition and it's a real honor."
"I love interacting with my fans on Twitter. It's a big part of my day — I'm constantly posting what's happening in my personal life and what kinky scenes I have been working on," she told Fleshbot. "I really believe I'm successful because of the time I spend getting to know my fans. I do Skype shows almost every night with my favorites and I've gotten to know a lot of really cool people that way."
Ashley has also just released another episode in her ongoing Soccer Mom feature.
For more information, visit ClubSinful.com.