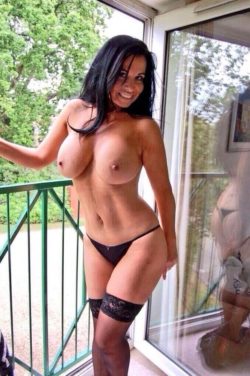 It's a sad, sad state of affairs indeed, The Sun newspaper will no longer feature topless women on Page Three.
The Times, which has the same publisher as the Sun, said it understood Friday's edition of the Sun was the last that would carry images of topless women. Although they will continue to feature topless models online (because minors are far less likely to look at tits on the internet than in the paper?!).
Page Three has been a Sun feature for 44 years but has come under fire in recent years from so say 'feminist'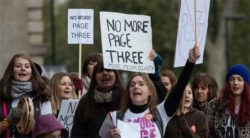 groups such as Object and NoMorePage3 for being sexist, outdated and lord have mercy advocating sexual assault or some such tripe.
The topless Page 3 feature has been a part of The Sun and indeed English culture for four decades. Page 3 will now favour pictures of "scantily-clad women wearing bras and pants".
Page 3 has provided many a girl with a decent wage for a job they love to do aswell as providing many a man/woman with a tittilating break from the daily grind.
Celebs who became famous from Page 3 include Katie Price, Melinda Messenger, Samantha Fox, Lucy Pinder, Rhian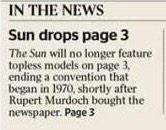 Sugden, Keeley Hazell, Linda Lusardi, Samantha Fox, Lauren Pope, Jayne Middlemiss, Nicola Tappenden, Leilani Dowding and Lacey Banghard. Real, hardworking women. Personally, I'd rather a young woman look up to any one of those women as a positive role model rather than the airbrushed, juice dieting fanatic, gossip mongering, bitch fest wannabes in the 'feminist' approved magazines.
It's only a matter of time before everything we do will be dictated by comfy shoe wearing… No bra wearing… man haters #page3

— Rhian Sugden (@Rhianmarie) January 20, 2015
Well done ladies, you've campaigned us all the way back to 1955. What a sad day for feminism… #page3

— Em Clarkson (@EmClarkson1) January 20, 2015
It's back!!! Page 3 Rises from the…PR Stunt?