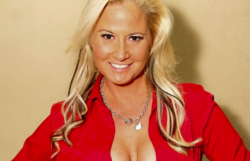 WWE Hall of Famer Tammy Lynn Sytch aka "Sunny" could be pulling some entirely different moves in the VERY near future. Apparently she's thiiiiis close to signing a monster porn contract with Vivid.
TMZ Sports reported, Sunny, widely considered the very first "WWE Diva" has been in talks with Vivid Entertainment, the same company that produced Chyna's "Backdoor to Chyna" video.
Vivid tells that the two sides have spoken several times and a 6-figure offer is on the table for Sunny to become a "genuine porn star", not just a 1-time sex tape thing.
"After the tremendous success of Chyna, this makes total sense. Hoping we can work it out," says Vivid's Steve Hirsch.
Rumour has it the deal is "VERY close" to being done and that Sunny is prepared to start shooting right away!