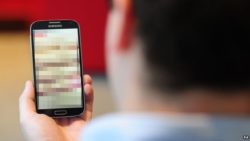 A man from San Diego has been found guilty of 27 felony counts for creating a so-called 'revenge porn' website, where he posted more than 10,000 sexually explicit photos of women online with the intention to extort them for hundreds of dollars each.
It took th court clerk a full 20 minutes to read the list of convictions against 28-year-old Kevin Bollaert, guilty of 21 identity theft and 6 extortion counts.
During the debate over whether Mr.Bollaert should walk free until his sentencing, Deputy Attorney General Tawnya Austin told the judge he should go back to jail, not because he is a flight risk, but because of the harm he could do to the 26 victims involved in the case. The judge ordered Bollaert be remanded in custody and held on a $450,000 bail.
"He is a vindictive individual who takes pleasure out of harming people," she said. "That's what the evidence has sussed out. And his tool of destruction happens to be the one thing that we cannot easily monitor. That is his area of expertise."
The case was the first of its kind and centered around a now defunct website called YouGotPosted.com, created by Bollaert so ex-partners could submit explicit, humiliating images of victims for revenge. The photos were then also linked to victims' social media accounts.
Those who wanted to have the pictures taken down were then redirected to another one of Bollaert's sites, ChangeMyReputation.com where the victims were charged $300 to $350 to have their photos removed.
Bollaert now faces up to 20 years in prison at his sentencing. The revenge porn case has been called a landmark one, for California is the first state to prosecute someone for posting humiliating pictures of others online.
In 2013, Gov. Jerry Brown signed a law that prohibits anyone from putting identifiable nude photos online after a breakup, punishable with $1,000 or six months in jail.
The UK has a similar law, the first man to be jailed for revenge porn in the UK was in November 2015.