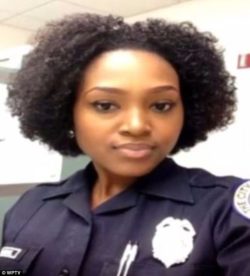 A Miami police officer is under investigation for failing to tell the force she was a porn star.
Sabine Raymonvil, 30, performed in a number of adult movies with pornographer Emerson Callum, who was convicted of drugging and raping women who auditioned for him, WPLG reports.
But in eight years as a detective, she failed to disclose her other career and now she is the subject of a review for allegedly violating codes of conduct.
A source familiar with Raymonvil told WPLG she continued to perform in porn movies well into her career in law enforcement. Raymonvil denied the allegation.
According to IMDB, Raymonvil also appeared in two short movies that appear to be thrillers, titled Aurora and Collapse.
However she was allegedly far more entrenched in the adult movie industry.
WPLG obtained segments of movies which allegedly show Raymonvil performing sex acts on Callum, who was convicted in 2012.
Callum's partner and videographer Lavont Flanders was also a Miami police officer, local media reported.
Raymonvil would not speak on camera to WPLG but later called the station to say that she had worked in porn before her cop career.
'Right now there is a lot going on with this whole situation,' Raymonvil told the station.
'It's currently under investigation by two police agencies. So I can't say very much. I'm willing to speak with you after the investigations are closed. I never made porn while I was a police officer.'