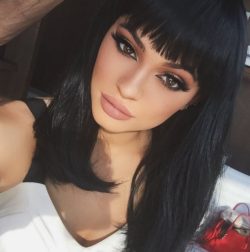 Kylie Jenner has reportedly been offered $10million (£6.3m) to do porn now she's turned 18.
The youngest of the Kardashian clan hit the legal age last week and US gossip site TMZ are now reporting she's been flooded with big-bucks offers to strip off for the camera.
Classy.
But that's not all – the offer on the table involves Kylie having sex with her boyfriend Tyga on camera. So it would basically a Kylie/Tyga sex tape.
Apparently porn heavyweights Vivid Entertainment offered Kylie 'a $10million deal for a video featuring her and Tyga', TMZ claim
Read the full article here.