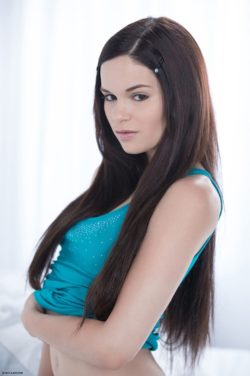 (Hollywood, CA) Petite Powerhouse Jenna J Ross is now an even hotter commodity. She's signed an exclusive contract with X-Art. x-art.com and colette.com will be the only places that you can find her new projects now. Every month, she will be filming five scenes and multiple photo sets that will appear on both sites.
Jenna has consistently been one of the top models on both sites, scoring ratings of 9.4 out of 10 stars on X-Art and a 9.10 out of 10 on colette.com, and has shot over 60 scenes and countless photosets for them. In her bio, they refer to her as "One of the hottest girls we've ever shot! You won't believe how much fire is packed into her tiny little frame. Gorgeous cat-shaped eyes, long dark curls and a gymnast!"
"I've been working with Colette for a while, but now it's official, and I'm exclusively hers," says Jenna J Ross. "They are hands down my favorite sites to shoot for, because they're great to work with and their product is nothing short of astounding. Look for some amazing new scenes and photo sets like you've never seen me before."
Both x-art.com and colette.com are a paradise of artfully shot videos and photos. The upscale and beautiful pornographic sites are an erotic revolution from Colette Pelissier and Brigham Field.