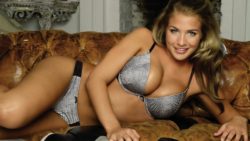 Ever want to see Emmerdale's beauty Gemma Atkinson who plays Carly Hope naked? Now's your chance! The soap star hottie has landed a major role in a Bollywood movie which involves a very frisky sex scene.
Gemma Atkinson has starred in many roles including Hollyoaks, Casualty and Emmerdale but this is her first role in a big production film.
Fever is a thriller starring Gemma, bond girl Caterina Murino and and Indian model Gauhar Khan who all vie for one mans affections, who just happens to be an assassin. It involves a lot of sexual tension, horny shower scenes and numerous amorous encounters for you to get your rocks off to.
A little birdy told me that the sex scene was set to be filmed on a closed set with just the crucial crew and the two actors, but much to her co-stars surprise Gemma invited the whole cast to watch and stripped off her clothes without blinking an eye! Looks like she's a cheeky exhibitionist.
If, like me, you remember the skimpy bikinis from her 'I'm a celebrity get me out of here' days, you will be just as eager to see the movie and sexy scenes. Get your wank rags ready and catch this trailer teaser here.
The DVD is due to be released in the UK this month. It's certainly made my 'must see' list.