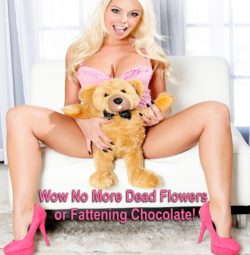 (Montclair, New Jersey) Teddy Love Bear, the cuddly teddy bear that doubles as a sex toy, has become a worldwide phenomenon, and is now more readily available to the European market. This week, Eropartner became Teddy Love's official European distributor. European stores and websites will be able to buy Teddy Love Bears directly from Eropartner without incurring huge shipping costs that come with buying overseas.
"We're very excited to be working with Eropartner," says Teddy Love creator and company owner, Wendy Adams. "This will open up Teddy Love Bear to a whole new market. Europeans love sex toys and Teddy should be an even bigger hit in Europe. We're looking forward to a long working relationship with Eropartner."
Teddy Love Bear is 20 inches tall and is made out of polyester fur. His muzzle is made from food grade TPE, which is hypoallergenic, non-toxic and phthalate free. Three AA batteries are housed in Teddy's back and they operate Teddy's 10 speed, whisper-quiet vibrating nose and tongue. His motor is 1.5 watt max with 3.0 to 4.5 operating voltage. Teddy Love can be easily cleaned with soap and water or adult toy cleaners.
To learn more about Teddy Love Bear, go to www.teddylove.net.