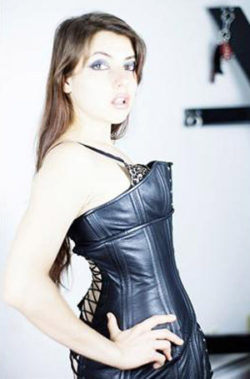 Described by her teachers as a very bright student, in the top two per cent of her media-arts high school class who dreamt of being a filmmaker or actress.
That all changed on August 9 2008, when Canadian Alissa Afonina was involved in a car accident with her brother Alexei, her mother Alla, and Alla's ex-boyfriend Peter Jansson. Their Toyota hit a wet patch and ran off the road. No other vehicle was involved, but the SUV, which witnesses said had been speeding, wound up on its side. The two women suffered various injuries.
After the accident Alissa was a very different girl and eventually ended up working as a Dominatrix.
She showed no impulse control, couldn't carry through on tasks, became isolated and began to have outbursts and make inappropriate sexual comments, her B.C. Supreme Court trial heard.
The Judge noted that the pre-accident Afonina was in some ways a typical girl, in some ways an atypical girl, someone who described herself as a "goth girl" with "artiste presentation."
But all that changed after the accident. Alissa, who was about to enter Grade 12, her mother and her brother were passengers in a vehicle being driven by her mom's former boyfriend, Peter Jansson.
Alissa's Lawyers argued that her decision to begin working as a Dominatrix at some point prior to her trial last year showed a lack of "correct thinking" and was proof she'd taken an unnecessary risk due to a loss of cognitive function from a moderate traumatic brain injury.
The defendant's lawyer argued that it was proof that the young woman could organize herself to maintain a modest level of employment income.
Groves said there was a bit of truth in both arguments.
"I believe that both the plaintiff and defendant can show that fact of Alissa's work as a Dominatrix supports the finding of some facts which support their ultimate view of the manifestations of the brain injuries as suffered by Alissa in the accident."
The judge noted that Afonina had not acted to minimize her risks by implementing an alarm system or safety measures in her work as a Dominatrix, which was evidence of a diminished judgment on her part and a factor supporting a theory of frontal lobe damage.
He said that it also showed some "residual" post-accident employment ability, being able to organize oneself to meet a deadline, to keep an appointment, to apparently collect money and use it to support herself.
The judge concluded that the brain injury for Afonina led to her being unable to cope normally and generate enough money to make a living.
The young woman had no ability to work full-time and might only qualify for entry-level jobs a few hours a day, such as basic food services industry employment, said the judge.
Without the injury, she'd have been capable of completing a college or university certificate of two years, he added.
The judge however did not accept her argument that she has no capacity to work.
Her damages award includes $825,000 for "future capacity loss," $376,000 for cost of future care, $300,000 for pain and suffering and $23,000 for special damages.
Afonina made a claim for an inability to form "interdependent" relationships due to her isolation and sexual and general impulsivity — arguing that she was "damaged goods" — but the judge said those damages would be "too remote" and denied that category of damages.
Afonina's mother, Alla Afonina, suffered a mild traumatic brain injury and was awarded more than $943,000 in damages. A former employee of B.C. Housing, she got $400,000 for future capacity loss, $195,000 for pain and suffering, $158,000 for past wage loss, $131,000 for cost of future care and $59,000 for special damages.