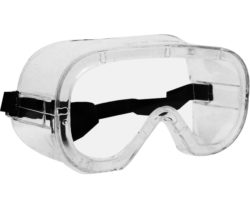 Porn stars may soon be forced to wear goggles along with condoms as part of a stricter set of rules for adult film sets.
According to a proposed set of regulations in California, published on Thursday by the state Occupational Safety and Health Standards Board, goggles could soon be introduced as a way of preventing the spread of STDs.
The goggles were just part of a plan which includes film producers paying for medical visits and Hepatitis B treatments and making sure there are proper showers on set.
Porn companies, actors and even some health advocates say the new rules are unnecessary.
"These are regulations designed for medical settings, and are unworkable on an adult film set — or even a Hollywood film set," said Diane Duke, CEO of the Free Speech Coalition, a trade association for the adult entertainment industry. She said the rules would stigmatize performers and risk "shutting down an entire industry."
For decades, California has produced the vast majority of America's adult films. Recently, however, critics have pushed to crackdown on the state's porn industry. In 2012, Los Angeles County passed a controversial law requiring condoms on porn sets. As a result, production in the county plummeted by more than 90 per cent.
How would you feel seeing goggles in your favourite cum shot compilation? Comments below.