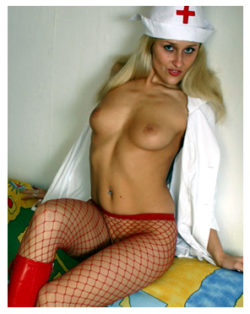 Role playing, fetish loving slut loves having a married cock to play with, especially when she's playing the naughty nurse…
Whenever I meet a group of blokes out at the bar, I always go for the married one. There's just something about married cock that gets me wet. It's the excitement and they're always good at fucking and proper filthy.
Probably because their wives don't make the effort anymore. That's just fine by me, more rampant cock for my slutty self!
This one night down the local in Lothian, I was drinking with a group of guys and I spotted the one with the wedding ring straight away. I cock teased that poor fucker all night. Rubbing my tits against him every chance I got. He couldn't keep his eyes off me in my sexy little outfit and by the end of the night he couldn't keep his hands off me.
At closing time all his mates headed off to the taxi rank I dragged him around the back for some naughty fun. He was kissing me and grabbing my tits like a man starved of sex. Mmmmmmm he was horny as fuck for me and I was gagging for it .
I pushed his back against the wall and squatted in front of him. I could feel the cold breeze against my naked cunt beneath my dress as I unzipped his jeans. Mmmmm he had a nice big juicy dick and I couldn't wait to suck it.
I spat onto the head to get him nice and coated and sucked him straight to the back of my throat. Mmmmmm I slurped and sucked on his length until I gagged from the force of him fucking my slutty face. I knew he wanted to cum, but I wasn't done him with him yet, I knew exactly where I wanted that tasty load and wanted to play first…
We got a taxi back to my place and I sat him on the sofa while I went to change. I love role play, dressing up and taking control of a man gets me off harder than anything else. I strutted back in wearing my red fishnets, red PVC fuck me boots and a sexy little naughty nurse outfit….
Mmmmm he'd already stripped naked and sat stroking his cock as he watched me. If ever a man was in need of a little medicine it was this one.
'Get on your knees' I ordered him. He looked puzzled for a second, but did as he was told. I raised one heeled foot onto the coffee table and raised my dress, baring my fishnet covered cunt to him.
When he was close enough that I could feel his breath on my clit I said 'It's time for your medicine…eat my cunt.' and I eased his mouth onto my pussy.
Mmmmmm he licked me good, straining his tongue through the fishnets desperate to get inside my tight hole. He licked, sucked, nibbled and ate at me until I came all over his fucking face.
Still I wanted more…
'Get on your back' I told him. I stood over him, a boot either side of his face, he was looking up at me as I stripped out of the sexy nurse's outfit. He watched my hands as they stroked over my firm tits… 'Does the patient want to taste my tits?' I asked and he nodded, his eyes fixated.
'What about my sweet, tight, hot, wet cunt?' I asked 'Does the patient want to fill this sweet, cunt with his married cock?'
'Oh fuck yes' he replied. I was rampant now, ready to ride his cock raw. I tore my fishnets at the crutch and lowered myself to his cock. I held his hands above his head, shoving my tits into his face as I positioned my soaking wet cunt to his rock hard cock…
I felt my lips parting, moulding around his fat, throbbing shaft…Mmmmmmm yeah he filled me good. I savoured the feel of him filling me for a second, squeezing my cunt around the base of his cock. I could feel my cunt juices trickling onto his balls, coating him in me.
'I bet your pretty little wife doesn't get this wet for you does she baby?' I asked. He didn't reply, he had a mouth full of my tit. I raised up…and sank back onto his cock. I did it again, harder this time, squeezing tighter. He groaned against my nipple.
'Mmmmmmm I do love riding married cock' I told him 'I love fucking you knowing you're going to go home covered in my cunt.'
I felt him twitch at my filthy words 'Oh you like that don't you, you dirty bastard? You like the thought of wifey tasting me on you.'
I rode him harder now, deeper, faster. 'I want your load inside me' I told him 'I want you to fill my cunt with your hot, thick spunk and I want you to cum harder than you've ever cum with your fucking wife.'
His hands were on my waist now his hips thrusting wilding, ramming his cock up into me as I rode him hard. 'Ohhhhh ohhh yes! Yes!' I cried 'That's it you nasty fucker! You fucking cum for me…NOW!'
Mmmmmmmm I felt him tense all over, every inch of his cock solid as he twitched violently, spurt after hot, thick spurt spilling into me and still I rode him, my own orgasm coating him even more 'Oh fuck yes! Yes! More, More!'
I came and came and came until I collapsed on top of him. A hot, sweaty, spunk filled mess.
I headed to the shower and he asked if he could join me. 'Oh no' I told him 'I meant what I said about wanting you to go home to your wife covered in my cunt…'
Fancy some role play fun with your own naughty nurse? Why not text one?