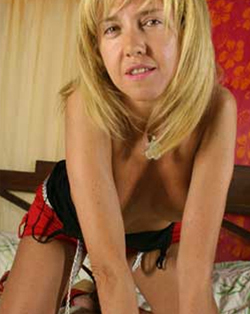 MILF Gets Fucked by Hubby & His Friend
I smiled as I entered my beautiful home, glad my husband wasn't due home until tomorrow. I had the entire night to fuck TJ. My eyes widened when my hubby came into the foyer. "Dan? What are you doing home?"
"I cut my business trip short." Dan eyed my pink mini dress. "Where the hell have you been looking like that?"
"Looking like what?" I cleared my throat as he walked over to me. Ohhh…he was in a mood tonight!
Dan grabbed hold of my chin. "Looking like a slut."
"Hey!" I swatted at his hand, shocked by his harsh words.
"Are you a slut, Jean?"
I glared at him. "What kind of question is that to ask your wife?"
"A damn good one, I'd say."
I gasped as my husband took hold of my arm and lead me into the dining room. "Dan, what has gotten into you?" I opened my mouth to tell him off then stopped short when I TJ…his friend, the man I'd been fucking for months behind his back.
"TJ told me how much you enjoy being his dirty slut." Dan propelled me in front of his friend. "Now you're going to show me what a good little whore you can be for the both of us."
My pulse raced! I was getting wet at the thought of being fucked by both men. My husband couldn't be serious! I met TJ's gaze, expecting him to say something but he remained silent.
"Take off the dress, Jean." My husband's voice was tinged with boredom.
"No." I wagged my finger at both men. "I don't think this is funny!"
TJ unzipped his pants and took out his hard cock. "Don't pretend you don't want this."
Mmm…I couldn't deny my need! I creamed my panties as TJ began stroking his thick dick.
"The dress, my dear." Dan unzipped his slacks, pulled his cock out and began to wank it.
I obeyed, slipping out of my skimpy dress, revealing my bare breasts and French knickers. I shivered as both men circled me, getting more turned on by the moment.
"Bend over the table," Dan said, still wanking.
I followed his instructions, shivering as the cool wood made contact with my hard nipples. I felt so wanton. I sucked in a breath a second later when my husband ripped my lacy knickers off.
"How much do you wanna bet she's soaking wet, Dan?"
My husband laughed. "Only one way to find out."
I moaned as he nudged his cock against my pussy then cried out when he thrust forward, filling me up fast and rough.
"This slut is wet as hell." My husband fucked me with a low groan of pleasure. "Her pussy is so good, isn't?"
TJ agreed as he brought his cock over to my mouth. I parted my lips to receive him. Ooo…he tasted delicious! I loved sucking him off while my husband fucked me. I could feel my cunt getting wetter as both men tunnelled in and out of my holes.
"Have you fucked her arse?" TJ asked while pushing his cock deep into my throat.
I whimpered. I'd never let any man fuck my arse and I didn't want my virgin hole penetrated now either.
"You know, I haven't." Dan pulled his cock from my pussy and pushed the head of his cock against my backdoor. "All sluts deserve a cock up the arse. Right, Jean?"
I couldn't answer, not with TJ's cock in my mouth! I squealed as my husband spat on my bumhole then proceeded to push his dick into my arse. Ohhh…the sweet pain made me whimper. I wanted to scream at Dan to stop but TJ was fucking my throat! I squeezed my eyes tight and tried to relax as Dan began fucking my virgin hole.
The erotic sensations coursing through me were so intense! I started moaning again, this time in mounting pleasure.
"Fuck, I'm going to cum!" TJ bellowed. He filled my mouth seconds later with his warm load.
I swallowed his cum, grateful when he pulled his cock out of my mouth. I mewled in ecstasy as my husband pounded my arse, feeling every bit like a dirty slut.
"Christ!" Dan jerked against me as he came.
I winced as he pulled his cock from my tender arse. Too tired to move, I sighed. I hadn't cum.
My husband came into my line of vision. "Don't worry, slut." He smirked. "We're not done with you yet."
Jean is a horny MILF longing for sex! CALL or TEXT her for hot pics and a filthy chat! Fulfil your MILF fantasies with me!